Before there was Speed Demon, there was Flat Fire!
Ron's flathead V-8 car, Flat Fire was inducted in the "Dry Lakes Hall of Fame"
» View the Ad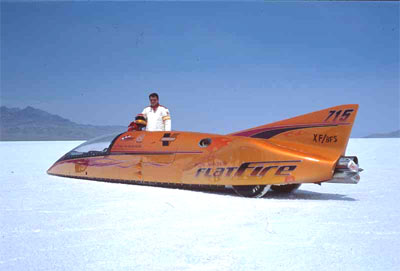 Today, most racing dreams of great speed records rely on adapting emerging technologies into innovative, forward thinking applications. Few start with parts more than a half-century old and devote twenty plus years of their life proving a point. More than "vision," something like that takes overwhelming tenacity. Ron Main, owner and driver of the Flatfire Streamliner, is as tenacious as they come. Because everything is based on a 1946 cast-iron block, Main knew his dream would require serious brain power from a variety of high-performance pros to help build his impossible dream -- a 700 horsepower Ford Flathead engine capable of 300 plus miles-per-hour.

The Flatfire/Ecofire team included: John Aitken, Phil Anderschat, Dave Austin Mark Brazeau, Steve Burke, Ernie Cross, Bruce Crower, Kenny Duttweiler, Paul Green, Ed Horton, "Dandy" Dick and Mike Landy, Rich Manchen, Ian Mann, Mark McCaw, Jack Miles, Jim Miller, George Poteet, Gary Robison, Crew Chief Russell Russ, AJ Smith, Dave Thomas, Gary Thomas, Bobby Walden, Steve Watt. Without the support of Main's "teen angel" Vanessa, none of this would be possible.

Even the nontechnical recognize Flatfire's engine as something special. The most striking feature is the pair of beefy exhaust pipes rising out of the top of the intake manifold. The ports have been swapped, the intake and exhaust valves now occupy opposite locations. Using titanium valves, a one-off head gasket and O-ringing the block and head at the cylinders to withstand the tremendous cylinder pressures. Shuffling the valves meant an entirely new "inverted radius" billet camshaft and profile from Bruce Crower. DLI built the special roller lifters. The dual-plug heads depend on the Motec Digital M48 ignition working in concert with the individual coil-per-cylinder Ford Cobra R coil packs and Mallory Super Mag.


A distinctive girdle ensures the crankshaft stays put in the three-main bearing configuration. Reinforced front and rear main caps, as well as a custom, four-bolt center cap support the 4 3/8-inch stroke billet Moldex crankshaft. Aviaid's dry sump oil system takes care of the lubrication duties.

Flatfire boasts nearly 700 horsepower and set a 302.674mph land speed record during the 2003 Speedweek held on the famed Bonneville Salt Flats. The glimmering pearlescent orange streamliner was clocked still accelerating through the last timing trap at a speed of 315mph. The sleek bodywork is the result of AJ Smith of Aerosmith Engineering and a NASA developed 3D computational fluid dynamic software program.

Termed "flathead" because unlike modem engines, the valves are located in the block, Henry Ford's boiler is a sentimental favorite of the hot rodders. Virtually unchanged from its original 1932 design, the flathead enjoyed a 22-year production run putting more than 12 million on the streets. It was only in the mid-1950's, when new overhead valve technology arrived as Chevrolet's small block and Chrysler's "Hemi," that the flathead popularity waned.

Flatfire remains an outstanding achievement. Starting with an iron block designed for a meager 85 horsepower and then pile driving a staggering 600 more into the design, the engine coalesces Main's dream of a lifetime. An avowed 50's devotee, Main, 65, pokes fun by calling himself a "recycled teenager." Flatfire is no casual dabble in a speed experiment, it is fidelity of purpose, spawning one of land speed racing's most ingenious and innovative approaches to the straight line in many years.

Main next dropped in a General Motors Ecotech engine and renamed the car "Ecofire," which became the World's Fastest four-cylinder engine with George Poteet driving. For 2007, a 4-cylinder Hemi powers the wheels and partners Main and Poteet, have their sights set on 400MPH with the new car aptly named "Speed Demon."

» Visit the Flat Fire website!